iOS7 mobile app marketing implications
iOS7 has been announced at Apple's WWDC in San Francisco the past June. For anyone in the mobile world this is a big deal and must make sure to be aware of changes and updates in order to fully take advantage of all opportunities.
Design
The first and most obvious change in iOS7 is the system-wide redesign. The user interface has been completely freshened up by using thin fonts, bright colors, flat icons, translucent panes. As you can image this does not have a big impact when we talk about mobile app marketing since there are no changes to the way we do things. The only aspect to keep in mind is the
feel
that users might (and will) get accustomed to and therefore developers should spend some time implementing the same style to avoid having their app look and feel old and heavy.
App Store layout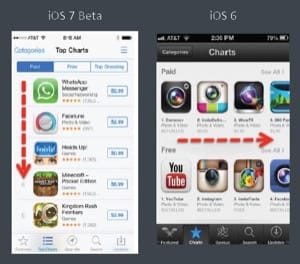 A bigger change, is Apple designing to go back to a vertical listing for the App Store top charts: yes, just like in iOS5. The intent to give visibility to a greater number of apps is obvious: just scroll down to see more and each app has less screen real estate which allows more apps to fit on screen at any one time. In addition, ratings are shown right under the app icon (hence more important?).
Popular near me
This is the first update that implements a new feature (rather than pure design). The popular near me section (new) highlights apps that are popular in the user's current location (used
and
downloaded). The huge take away element is that Apple introduced a new tool when it comes to ASO (App Store Optimization) which implies organic app discovery. I'm a big advocate for ASO and this is extremely exciting: a new weapon in our arsenal. On top of that, this is a "democratic" addition. Most ASO/SEO aspects get covered up by those who have more time/energy/resources; but with popular near me, you only allow players who are within a GPS radius and therefore level the playing field for smaller/less savvy small business marketers.
Automatic app updates
This is another great feature that benefits everyone. Users will always have the latest version of the app without seeing annoying badges (the numbers in read in the top right corner of an app) and developers do not need to worry (as much) about supporting older versions of apps. Not much direct impact for marketers but rather a more satisfied feeling across the spectrum.
MAC address eliminated
Following the deprecation and rejection of apps using UDID (device identifier), starting from iOS7 also MAC address will be unavailable (or rather always return 02:00:00:00:00:00). MAC address could have been used by some in the past as a tracking element by most have already migrated to other forms of user tracking and should therefore be no threat.
Apple app transfer
iTunes Connect, Apple's web portal to manage mobile apps in the App Store, now allows developers to transfer control of an application to another developer account while keeping rank, ratings and users unchanged. As the mobile app business has been growing the past years, this has been a much awaited feature (before you had to reach out to Apple via email and ask). On a business/marketing perspective, this will allow brands to acquire and invest rather than recreate and in addition competitors can just be bought to consolidate similar apps.
App Store wish list
Again, this proves Apple's huge efforts to help developers sell more apps. The first barrier to be demolished was when in-app purchase was introduced: no more decisions to be made (buy/no buy). Now, you have an extra intermediate option to place apps in a wish list and therefore demolish the download/no download decision. Direct impact for marketers still remains to be seen but it will definitely generate more downloads.
iTunes Radio
This is an indirect advantage for marketers. The radio service itself is a huge deal for Apple and its users but one might wonder why/how for mobile app marketers. Assuming it will be an instant rival to Pandora and be adopted by many people around the world, it can then be leveraged for further user analytics and ad targeting.
Passbook update
The newest update to Apple's passbook brings several interesting features. The most useful is without a doubt the additions of a bar code and QR code scanner. App download/open link has also been introduced along with a pass sharing feature. This as a whole will make using passbook more efficient and seamless which should make many more users adopt it. Once there is a good user base (still not big enough), we can talk about cross-channel promotion and set up viral campaigns.
Published: Thu, Jul 4 2013 @ 11:03:46
Back to Blog