Weight loss ebook - my tools
I haven't been talking a lot about lately but in the past I also wrote an ebook on weight loss. It was basically my experience: I changed my life and lost 100lbs.
This took a lot of effort and sweat (literally) but once you get in the right mindset it's just a matter of time.
As you probably know I recently logged in to my Pinterest account after a long time of inactivity.
[caption id="attachment_1888" align="aligncenter" width="300"]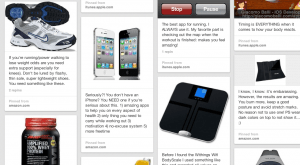 The weapons that helped me lose 100lbs.[/caption]
One of the board I created was a collection of all the tools I used during this journey. I figured it would be nice for people to have a chance to see it. You can find it
here
.
Published: Sat, Nov 3 2012 @ 3:59:52
Back to Blog